Draincure UK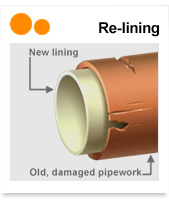 What is Relining?
Our Lining Systems are a proven and established method of placing a new pipe within an existing damaged pipe without any excavation and minimal disruption. The new pipe material used is similar to Glass Reinforced Plastic (GRP) and in all cases will be superior in quality and strength to the damaged pipe which it lines. The new pipe is moulded into the damaged pipe by a method called 'inversion' using water or air pressure to fit tightly against the circumference of the old pipe. When 'inversion' is complete the new pipe (which is originally flexible) becomes rigid and extremely durable with only a minimum loss of cross section of approximately 6%.
The advantages of relining

It eliminates costly excavations and general disruption to property.
Capable of repairing and curing leaking and open joints, root intrusion, cracks and all other associated pipe failure.
Suitable for domestic, industrial, commercial and municipal applications.
Achieves permanent structural repair.
Guarantees improved flow characteristics
Capable of withstanding ground movement far in excess of traditional drainage materials such as saltglaze, clayware and concrete etc.
Any cross-section loss is adequately compensated by increased flow efficiency.
The process is accepted by Local Authorities, Loss Adjusters, Surveyors, Civil Engineers and Architects etc...
The materials used are extremely strong, abrasive resistant and do not rely on the existing pipe for it structural integrity
A Liner refurbishment will be ready for use within hours of installation.
VERY cost effective, up to 75% savings have been achieved by Lining over conventional methods. Superior quality at lower cost = good value for money.V
ertical or Horizontal pipes relined.
Applications include listed buildings, airports, municiple, adoption work, factory, etc...
Trenchless technology with minimal disruption, business can continue whilst work done.
Lining installations are fully guaranteed.